News
Personal experiences shared to help keep people safe on the roads
FIREFIGHTERS and a victim of a road traffic collision in Manchester are sharing their 'stories' to help raise awareness of the dangers that come with using the roads.
Five people are killed and over 60 are seriously injured every day in the UK. In Greater Manchester alone, 683 people were killed or seriously injured on the roads in 2019 – 63 of these were fatal incidents.
Firefighters from Greater Manchester Fire and Rescue Service (GMFRS) attend Road Traffic Collisions (RTCs) whenever someone is trapped in a vehicle or when they are required to help make the area safe or put out a vehicle fire.
GMFRS' Head of Prevention, Area Manager Paul Duggan, said: "Our firefighters are called to serious road traffic collisions every year and all too often witness people suffering life-changing injuries or worse.
"We now rescue more people from road traffic collisions than we do from fires, so we are keen to work with our partners to do all we can to keep people safe on our roads."
One GMFRS firefighter sharing his personal experience to help others, is Crew Manager Stephen Clarke from Marple Community Fire Station. In his 'story', Stephen recalls a serious collision he attended where the young driver suffered life-changing injuries and he explains how the incident has affected him.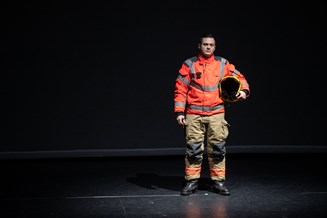 CM Stephen Clarke
Stephen's 'story' is on GMFRS' website along with personal experiences from some of his colleagues.
Also sharing his experience is Brooke Trotter, who was hit by a speeding car 13 years ago in Manchester city-centre.
Brooke said: "13 years ago I was a student living a great life in Manchester, but the life I knew was taken away from me very suddenly one night, when a young driver made the decision to speed through the city-centre and not pay attention to the road.
"He lost control and hit me as I was walking on the pavement. As a result, I suffered a severe traumatic brain injury. It's an invisible disability, but for the past 13 years I've been living as half the person I used to be – unable to keep up with my friends, finish my degree or pursue a career.
"The effects are forever, as this doesn't go away. Please look out for each other when out on the roads – mistakes are easy to make and the consequences last forever."

Brooke Trotter
Brooke has shared his 'story' to help others, and it can be found on GMFRS' website.
August is National Road Victim Month 2020, when Road Peace – the national charity for road crash victims – raises awareness of road safety.
The charity supports families impacted by collisions on the roads and is holding virtual remembrance events in the coming weeks in memory of all road victims. Details of these are on Road Peace's website.
Greater Manchester's Deputy Mayor for Policing, Crime, Criminal Justice and Fire, Bev Hughes, said: "To support National Road Victim Month year, we are raising awareness of road safety in a bid to reduce deaths and serious injury on Greater Manchester's roads. Last year, more than 60 families lost a loved one on our roads – with a further 600 people suffering serious and often life-changing injuries.
"Collisions often occur because of distractions such as speeding, using mobile phones, and drink or drug driving. When you are behind the wheel, please think about others, yourself and your family and friends – lives can be wrecked beyond repair in a second and the consequences last a life-time."
Chief Inspector Matt Bailey-Smith said: "As we continue to navigate the current situation, we are mindful that August is National Road Victim Month – a time to remember those who have been injured or have sadly lost their lives on the road.
"Deaths on our roads are tragic and accidents can be completely avoidable by driving carefully, to the conditions on the road and following the laws that are in place to protect us all.
"We know that road accidents do happen but we'd like to urge people to let this month be a stark reminder of the consequences that these accidents can cause. Telling a family that their loved one has serious injuries or in the worst case, has sadly passed away, is one of the most difficult things an officer has to do.
"We are constantly trying to reduce the numbers that are injured or killed on our road but we need your help. If you have any concerns whilst out on the roads then please report them to us via the dedicated link on our website or by calling 101. Always dial 999 in an emergency."
Dan Smith, Greater Manchester Head of Service for North West Ambulance Service (NWAS), said: "As we remember those who have sadly lost their lives on our roads this National Road Victim Month, we hope to help raise awareness of the importance of road safety. 
"Our staff and emergency services colleagues see first-hand how a split second lapse of judgement can destroy lives in an instant. A little bit of extra care on the road really can be life-saving."
You can find more information about staying safe on the road on GMFRS' website.
---
18/08/2020 13:04 PM