moorland fire safety barbecue
Moorland safety warning after people light barbecue on moors
WITH the nicer weather here to stay a while longer Greater Manchester Fire and Rescue Service (GMFRS) is reminding people about staying safe when visiting our moors.
The plea comes after a group of people were caught using a barbecue on the moorland at Dovestone Reservoir in Oldham last weekend (Saturday, June 29, 2019).
GMFRS' AIR Unit captured images of the aftermath of the barbecue – which luckily didn't start a fire.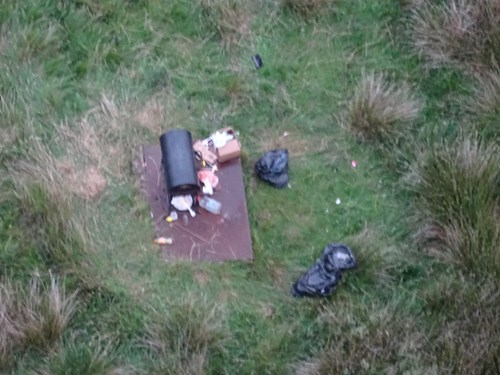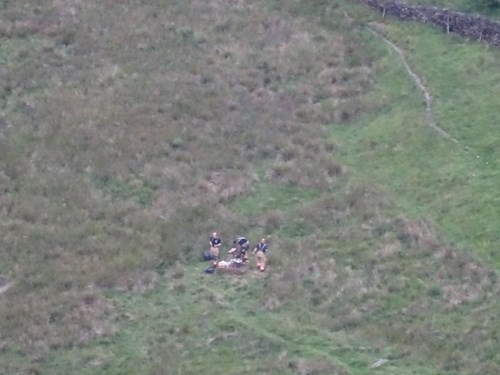 GMFRS Station Manager Dave Swallow, who covers Mossley and Stalybridge, said: "Prevention and reassurance work around moorland fires continues across Greater Manchester, with ourselves often working closely with local councils and Greater Manchester Police. Prevention activity includes school visits – where staff members educate our young people about moorland fires, amongst other things, and their consequences.
"Patrols are also carried out by GMFRS' community safety staff, volunteers and fire crews – who have a presence in some of our beauty spots, particularly during busier periods like bank holiday weekends. And more recently we have welcomed the Women's Institute on board to help prevent wildfires and keep people safe while out enjoying the moors."
Working closely with the Women's Institute, GMFRS staff members have ensured its volunteers are now equipped with knowledge and materials for when they are patrolling the moors and speaking with people. The Dovestone Safety Marshalls began their patrols in the Dovestone area of Oldham on Saturday, June 9, 2019.
Station Manager Swallow continued: "Publicity materials are also used to raise awareness of moorland fires and how to prevent them, and includes banners being put up in prominent places by GMFRS. Lots of messaging is also posted on our social media channels, particularly if we know we are expecting hot weather and during school holidays.
"Working with local gamekeepers to ensure we are prepared for moorland fires our crews carry out wildfire training in real life conditions using equipment such as the Forced Air Firefighting Units, which are similar to large leaf blowers, to extinguish the flames.
"We continue to ask people to take care, especially when on the moors, and never light a barbecue or start any kind of fire. These fires are devastating and the consequences so costly – to the community, the environment and also to our Service and resources.
"Finally, if you see a fire in the countryside please dial 999, providing as much information as possible about its location, and never attempt to tackle yourself."
GMFRS has been working closely with local authorities in Greater Manchester, particularly Tameside and Oldham councils, to get a Public Space Protection Order (PSPO) implemented – which if enforced will mean that anyone caught lighting a fire or barbecue in specified areas will be fined. Consultation with councillors, stakeholders and residents about the PSPO is being carried out by the councils involved and will run until August 5, 2019.
To help prevent moorland fires and keep the countryside safe, advice includes:
---
Article Published: 05/07/2019 11:52 AM