GMFRS Volunteers Volunteering
Two long serving GMFRS Volunteers retire
Two retiring Volunteers, Chaplain Sue Tansley and Cadet Instructor Derek Griffin have been presented with Service recognition certificates from Station Manager Dave Wilson and Red Watch, at Manchester Central fire station.
Salvation Army Major, Sue Tansley, joined Greater Manchester Fire and Rescue Service (GMFRS) in 2015 as a volunteer Chaplain mainly covering Stretford, North Manchester and Oldham. Over the last seven years, she has provided practical and emotional support to firefighters and their dependents, GMFRS staff and volunteers, and anyone else with a connection to the Fire and Rescue Service.
Sue has also provided many hours of welfare support to crews and other colleagues, volunteers and partners at extended incidents and training exercises. Whether it was a brew or a butty, Sue is always ready with a Mars bar, helping to keep everyone fed and warm with hot drinks and a smile.
Although Sue is retiring from her volunteer Chaplain role, she will be expanding her role with the Salvation Army and therefore will continue to provide welfare support to GMFRS during incidents and at GMFRS training events. Major Nigel Tansley, Sue's husband and a GMFRS Chaplain of many years will continue to support GMFRS and will pick up areas Sue previously covered.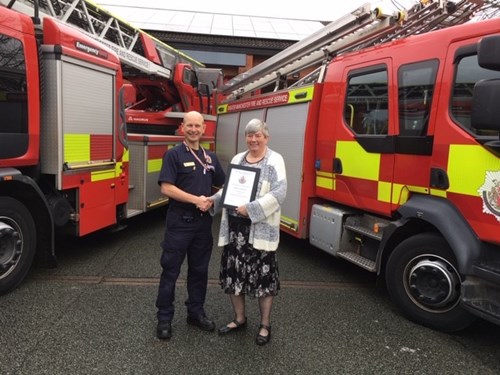 Derek Griffin signed up as a GMFRS Volunteer in 2010 at 19 years old, when doing a public services course at Manchester College and provided an amazing 12 years as a GMFRS Volunteer.
During his 12 years as a volunteer, Derek supported an array of events and activities. His main role was as a Volunteer Cadet Instructor, but Derek also participated in fire station open days and Firefighters Charity car washes, fire bikes hazard spotting, kitchen fire safety demonstrations and giving fire safety advice to members of the public at 999 events and during community engagement activities. Derek also represented GMFRS at parades including Manchester Day Parade and Pride events and supported the training of operational colleagues acting as a casualty.
Derek also volunteered for some of the most physically and mentally challenging tasks; assisting with post-incident work cleaning up after house fires and after the Manchester Arena attack was on city centre streets to reassure the community and give advice to members of the public This also included two weeks working at St. Ann's square reassuring the public and showing a GMFRS presence on the memorial site and representing GMFRS at Manchester cathedral on the one year anniversary.
Derek said: "I've met loads of staff and volunteers and feel it's one big family and have made friends for life. I've appreciated every training course and every opportunity given to me which will stay with me for the rest of my life".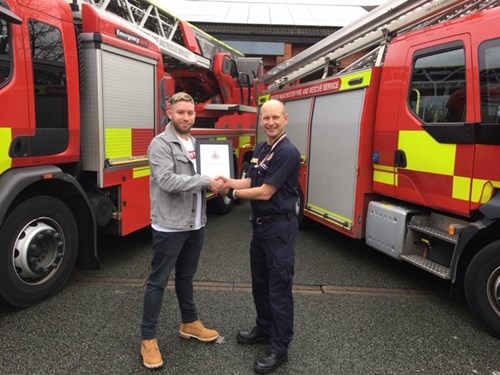 GMFRS Volunteer Manager Wendy Richings said; "Sue Tansley and Derek Griffin represent the value of volunteers and volunteering to our organisation and communities. GMFRS are extremely grateful for the wealth of skills and experience they brought, whether welfare support or safety information and engagement activities, the commitment Sue and Derek have demonstrated is highly commendable and has helped us train our Crews and support our communities to educate and help keep them safe from fire and other risks, we will miss them both but wish them the best of luck for their future."
---
Article Published: 07/02/2022 09:50 AM