GMFRS UKISAR
Local firefighters thanked for their dedicated rescue work following the Turkey-Syria Earthquake
A CELEBRATION event has taken place to thank firefighters who formed part of the UK International Search and Rescue (UK-ISAR) team that were deployed to Turkey in February, following the devastating earthquakes that struck parts of the country and Syria earlier this year.
Ramsbottom and Heywood Station Manager Martin Foran, Leigh Watch Manager Mike Hirst, Ashton Firefighter David Hedgecock and Leigh Firefighter Steven Pennington were joined by their families, Chief Fire Officer Dave Russel, Assistant Chief Fire Officer Barry Moore and Deputy Mayor of Greater Manchester, Kate Green, at our Training and Safety Centre in Bury for a special celebration event to thank them for their important contributions to the international rescue effort.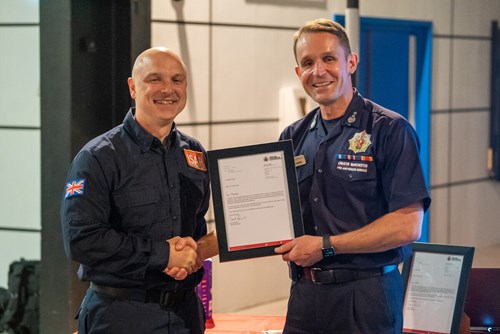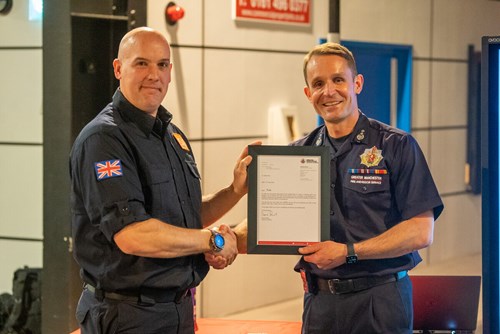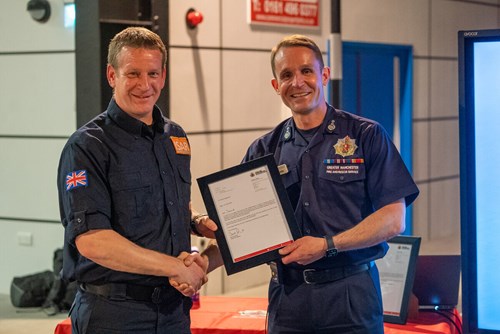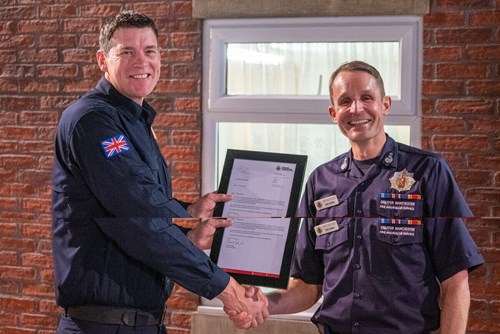 Clockwise from top left: SM Martin Foran, WM Mike Hirst, FF David Hedgecock and FF Steven Pennington receive their certificates from Chief Fire Officer Dave Russel.
Station Manager Martin Foran shared a short presentation explaining the challenges the team faced working on the ground in the affected areas. Upon arrival the team encountered a scene of utter devastation but, working together, they managed to rescue eight people trapped under flattened buildings, and our GMFRS firefighters were instrumental in the rescue of seven of the casualties.
During their deployment the team were captured in video footage using their specialist skills and equipment in several emotional rescues of people who had been trapped in the rubble for days.
Following the event, Martin said:
"I was really proud to see the ISAR team members recognised with the thank you event, and also for our families to be thanked, as it can be a difficult time for them when we are deployed to help with rescue operations such as those that followed the earthquakes in Turkey."
The team flew to Turkey on 7 February as part of a 77-strong UK-ISAR team - a volunteer service made up of specialists from 15 fire and rescue services who are deployed to humanitarian incidents or disasters anywhere in the world.
Dave Russel, Chief Fire Officer at Greater Manchester Fire and Rescue Service, said:
"I'm incredibly proud of our staff for their dedicated work in such harrowing conditions. For all the moments of joy they were part of in rescuing people, we're acutely aware that there was absolute devastation they experienced over there and how hard that is to deal with. It's important that we not only thank them, but also their families, for their dedication.
"When they were over in Turkey we were able to share their updates and see the challenging situations they were facing, and it really captured the hearts of people across Greater Manchester who were very proud of their local firefighters."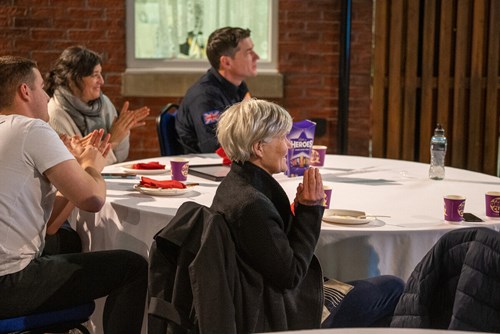 Working as part of UK-ISAR, GMFRS firefighters have previously been deployed to respond to floods in Bosnia and Herzegovina in 2014, the earthquake and tsunami that struck Japan in 2011, and the earthquake that hit Haiti in 2010.
---
Article Published: 04/05/2023 10:58 AM