GMFRS Charity
Inaugural Dan Lee Mil Race raises over £2,000
THE COLD and windy weather up the hills of Saddleworth didn't stop hardy runners taking part in the first ever Mil Race to raise money for Dan Lee's family.
Dan Lee was Watch Manager at Agecroft station, working for Greater Manchester Fire and Rescue Service (GMFRS) for more than 16 years until he tragically died last August. Colleagues across GMFRS, the Service's Armed Forces Network and external supporters wanted to set up an event that remembered Dan, supported his family and tied in his military background.
It can now be revealed that the race, which took place on 26 March and which saw 45 people - and two dogs - take part, has raised over £2,100 for Dan's young family.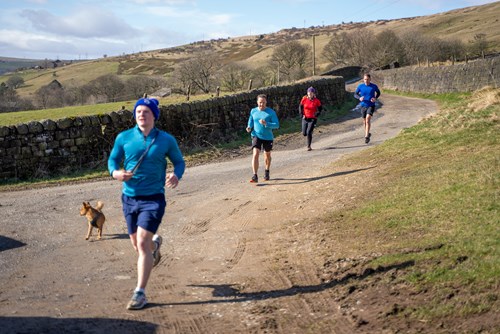 The nine-mile route was based on an old course where the Parachute Regiment used to train, where they would complete a test march in under one hour and 50 minutes carrying equipment and rifle.  It also forms part of the final two months of the Royal Marines' 32-week training programme.
There were two race groups competing on the day, the first of which was the 'Clean Fatigue' group who ran the race. That category was won by Simon Wood, Service Development Project Lead at GMFRS, in 1 hour and 15 minutes.
The second group, the 'Loaded Category', completed the route with a minimum of thirty-five pounds weight on their back. That was won by Stephen Hunter, a serving Royal Marine, in 1 hour and 38 minutes.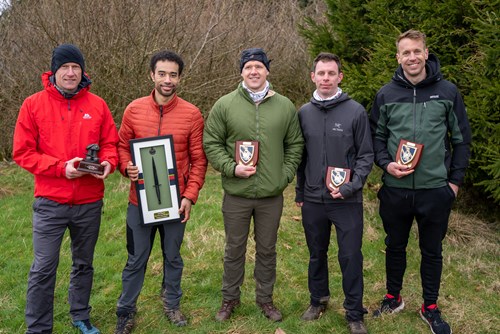 The winners and runners up were presented with their trophies by Dan's fiancé Simone and GMFRS Chief Fire Officer Dave Russel.
Group Manager Jean-Pierre Helliwell, one of the lead organisers of the event, said:
"The support has been incredible, not just from colleagues in Greater Manchester but also from other fire and rescue services, military groups and the general public.
"It was quite a challenging route and the conditions were harsh to say the least, but the atmosphere of the event and seeing people's passion and support for Dan's family was wonderful to see."
Donations can still be given on the Go Fund Me page by visiting: Fundraiser for Jean-Pierre Helliwell by Andrew Williams : The Dan Lee Mil Race 2023 (gofundme.com)
---
Article Published: 11/04/2023 10:50 AM