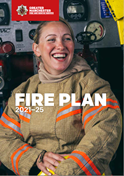 GMFRS Fire Plan 2021-25 (PDF, 1.7MB)
The Fire Plan addresses the impact of major incidents such as the Manchester Arena attack in 2017, the Saddleworth Moor fire in 2018 and, more recently, widespread flooding in south Manchester and Stockport, as well as the 2019 Cube fire in Bolton.
The priorities making up the plan include:
Providing a fast, safe and effective service
Helping people to reduce the risk of fires and other emergencies
Helping protect the built environment
Using resources sustainably while delivering the most value
Developing a culture of excellence, equality and inclusivity
Integrating services in every locality with those of partner agencies.
As the Fire Plan outlines, GMFRS will continue to identify risks to understand where to locate the workforce, while continuing to carry out joint planning and training alongside other agencies to prepare for large-scale and complex emergencies.
The Fire Plan also forms part the wider Greater Manchester Strategy, which aims to make the city-region one of the best places in the world to grow up, get on and grow old. GMFRS will integrate working with partners across the city-region to enable this ambition.
Greater Manchester Strategy (external website)
Fire Cover Review 2023
During 2022/23, we carried out a Fire Cover Review as we do every four years in line with the development of our Fire Plan, to ensure we have the right resources in the right place at the right time with the right equipment and training.
Alongside this, we also carried out a Strategic Review of Special Appliances, to assess the effectiveness of our special appliances that carry dedicated equipment and technology for use in specific situations.
It is the recommendations from these two reviews that we asked our people, our communities and our partners for their views in summer 2023.
An internal and external engagement and consultation process took place, focusing on changes to our operational delivery.
Estates Improvements Programme
As part of the four-year Fire Plan, GMFRS is investing millions into a long-term programme of improvements to update its buildings and facilities, ensuring they are fit for the future.
Estates Improvements Programme - launched autumn 2021
Annual Efficiency and Productivity Plan
We have submitted to the government our efficiency and productivity plan for 2023-24. This provides details of our progress in meeting national productivity and efficiency targets for 2021-22 to 2024-25.