GMFRS
Young boy becomes honorary firefighter for the day
A YOUNG boy from Rochdale has been made an honorary firefighter for the day, following his quick-thinking actions when he spotted a fire in his home.
Zain is nine-years-old and a pupil at Spotland Primary School. He discovered a fire involving an electric fire in October 2020 - quickly alerting the rest of his household as black smoke started to fill the house.
The family managed to escape the fire with firefighters from Greater Manchester Fire and Rescue Service (GMFRS) called to tackle the blaze.
On Monday, June 28, 2021, White Watch firefighters from Rochdale Community Fire Station visited Zain's school to recognise his actions.
During the special outdoors visit, firefighters showed Zain and other schoolchildren in his class the fire engines and equipment and spoke with them about fire safety in the home and the role of a firefighter.
Group Manager Val Hussain attended the visit and presented Zain with a certificate as a keepsake of the day and as a reminder of his courageous actions during the fire at his home.
GMFRS Group Manager Hussain, who covers Oldham, Bury and Rochdale, said: "I was really pleased to meet Zain and his school friends during the visit to Spotland Primary School with firefighters based in Rochdale.
"I am very proud of Zain – he is an extremely courageous young man and made the right decisions during a challenging time. His quick-thinking actions during the incident meant that his family members in the house at the time escaped the fire safely."
Find lots of useful information to keep safe at home on our website.
PHOTOS: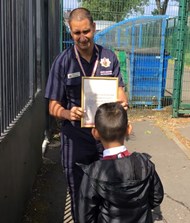 Group Manager Val Hussain and Zain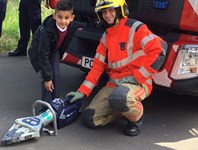 Apprentice Firefighter Scott Leach with Zain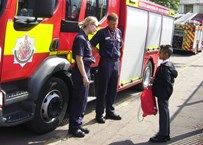 Firefighter Chelsea Thomason and Apprentice Firefighter Scott Leach with Zain
---
02/07/2021 10:00 AM