GMFRS Red Plaque Scheme Event
Red plaque unveiled for fallen Mossley firefighter
ON Saturday 2 October a red plaque was unveiled in memory of a fallen firefighter from Mossley. Firefighter Wilfred Nelson was attending a mill fire in March 1955 and accidentally fell to his death while damping down the fire in the building. 
The red plaque is located at Chew Valley Road's Tesco store, Greenfield to mark the location of the mill where firefighter Nelson died. The family of firefighter Nelson, representatives from the Fire Brigades Union (FBU), Area Manager Carlos Meakin and crews from Mossley Community Fire Station attended the ceremony.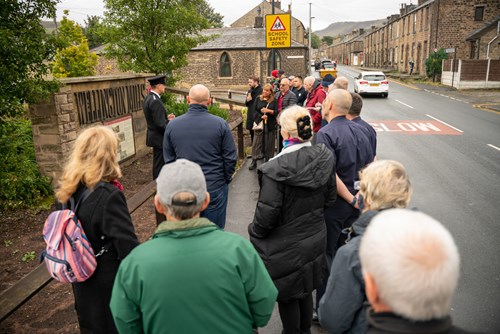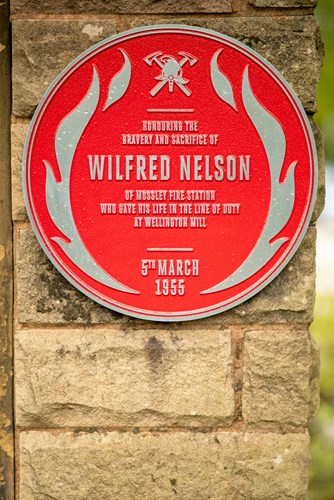 The Red Plaque Scheme is run by the FBU and honours firefighters killed in the line of duty. A team of union members and leaders volunteer their time to manage the Scheme, working with local communities, authorities and fire services to commission, install and maintain all red plaques. Since 2017, over fifty fallen firefighters have been honoured with a red plaque across the UK. 
GMFRS Stalybridge & Mossley Station Manager Dave Swallow who initiated tribute said: "The anniversary of firefighter Nelson's death was brought to my attention by a local media enquiry earlier this year. At the time, he had left behind a young son and wife, and I thought installing a red plaque would be a fitting tribute to recognise this tragic loss. 
"I have been working with the FBU and the Fire Fighters Charity over the past few months to prepare for the installation. This would bring meaning to firefighter Nelson's family and the community. Apart from remembering his bravery, the red plaque could remind local residents the importance of their own role in preventing fire incidents." 
If you would like to support the Red Plaque Scheme, find out more on their website - https://redplaque.org.uk/ 
---
04/10/2021 12:57 PM