incident
Industrial yard fire - Corporation Road, Rochdale
11.30am update
Crews remain at the scene of a fire at an industrial yard on Corporation Road in Rochdale, though the fire itself is all but out.
Just two fire engines from Blackley and Rochdale stations, and an aerial platform from Oldham, are still on site.
Station Manager Andy Hardman, in charge at the scene, said: "I am pleased to say GMFRS now has this incident completely under control. Those firefighters still here at the scene are engaged in aiming water onto two final sectors of the fire site, damping down and making sure there are no further flare-ups.
"The fire has burned through a large area containing scrap metal and cars which includes a 100m by 20m single storey workshop, which was consumed by the flames. Its corrugated metal roof has burned through.
"GMFRS has ensured the vast majority of water run-off has been into drains, keeping the nearby River Roch as clear from pollution as possible.
"There is still a little smoke in the air so I would still ask nearby residents to keep their homes' windows and doors closed. Norman Road remains closed to traffic so we would ask drivers to seek alternative routes. I would like to thank local people for their co-operation and support at this incident throughout the night, as well as colleagues from the Environment Agency, Greater Manchester Police and North West Ambulance Service."
GMFRS will remain at the scene throughout the rest of the day. There will be no further updates.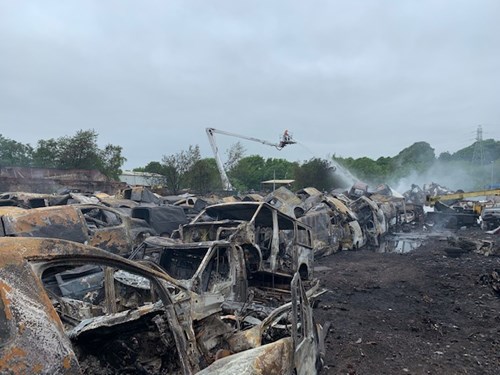 ---
9.15pm update
Firefighters continue to tackle the blaze affecting an industrial yard on Corporation Road in Rochdale.
There are now 10 fire engines in attendance alongside a high-volume pump and a hydraulic platform.
Station Manager Craig Pinder, at the scene, said: "Firefighters are working incredibly hard to tackle this blaze. The fire itself is affecting quite a large area and also involves a single storey multi-use building, and we have split the scene into three sectors to enable us to fight it as quickly and efficiently as possible.
"Crews are using hoses at ground level but also angling jets of water from above using a platform - that enables us to reach further inside the fire, and should help us with our firefighting.
"I want to praise the hard work of our firefighters who were quickly on the scene, and we are co-ordinating our response with support from emergency services colleagues from North West Ambulance Service and Greater Manchester Police.
"We anticipate being at this incident into the night and I would ask local people to continue to keep their windows and doors closed to prevent any of the smoke - which is acrid and black - from entering any properties."
Road closures and diversions are in place in the immediate vicinity of the incident with traffic likely to be affected along Corporation Road and Norman Road.
---
8pm update
Roughly 35 firefighters are tackling a blaze on Corporation Road in Rochdale.
Crews were called at 7.15pm on Saturday 23 May to reports of a fire at an industrial yard and firefighters from six Greater Manchester fire stations - Broughton, Bury, Heywood, Littleborough, Rochdale and Whitefield - were quickly on the scene.
The fire involves approximately 30 vehicles within the yard and crews are working to extinguish the flames using breathing apparatus and two jets.
The smoke from the incident can be seen from some distance away and local people are requested to keep the windows and doors of their homes closed. Nearby residents are also asked to keep local roads clear of traffic to enable emergency service vehicles easy and swift access to the scene.
---
23/05/2020 20:22 PM