GMFRS
GMFRS crews compete in Festival of Rescue
FIREFIGHTERS from Greater Manchester Fire and Rescue Service (GMFRS) have joined hundreds of colleagues from across the UK for the latest UK Rescue Organisation (UKRO) event - Festival of Rescue in Newcastle.
The event was hosted by Tyne and Wear Fire and Rescue Service and saw crews from all parts of the nation take part in challenges which showcased how they tackle everyday incidents and situations – including road traffic collisions, trauma, rope rescues, water rescues and urban search and rescues.
Festival of Rescue took place on Friday, September 17 and Saturday, September 18, 2021, at Newcastle and Gateshead quaysides, attracting lots of visitors who had the chance to speak with firefighters and event organisers.
GMFRS' RTC Extrication Team completed a number of scenarios which provided them with opportunity to demonstrate their specialist skills, including a 'heavy rescue challenge', with the ultimate aim of rescuing 'casualties'.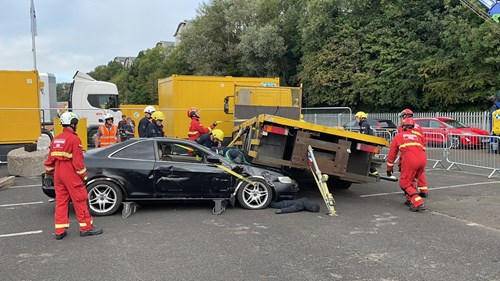 Road Traffic collision scenario
Group Manager Ian Redfern attended the event and was sharing live updates from GMFRS' RTC team Twitter account @GMFRSrtcteam.
Ian said: "UKRO has been at the forefront of development and innovation in the field of professional rescue for more than 30 years, leading the way in sharing best practice through competitions across many rescue disciplines.

"Everyone who took part in the challenge did very well and should be proud of their contributions and achievements in representing GMFRS at events such as the Festival of Rescue.
"Our RTC Extrication team did exceptionally well, and I want to give a special mention for the team's incident commander, Station Manager Ian Melville, who performed superbly and finished third in his category."
As well as the competition element, the UKRO also put on a series of workshops that the RTC Extrication team attended during the event, with the team successfully applying a new technique to rescue two casualties from an extremely complex scenario. These new skills and techniques will be fed back into the Service through the Training Delivery Team. 
Ian added: "The RTC team also joined up with a team from Durham and Darlington and finished sixth place in the Heavy Rescue Challenge, with two team members also entering the Trauma Challenge, and for a first showing received some great feedback. Again, the knowledge and skills will be fed back into the Service through the Training Delivery Team.
"We now look forward to taking part in next year's event in the West Midlands where we will once again put our skills to the test, learning how we can best help the people in Greater Manchester who find themselves in need of rescue."
Greater Manchester's Trauma team also took part in the challenge, dealing with several 'casualties' - some who had compound fracture and inhalation injuries and required immediate medical care.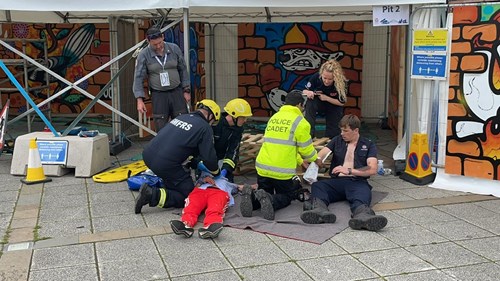 Trauma scenario
Over the two days, GMFRS' Rope team completed seven complex rope rescue scenarios, with the iconic Tyne Bridge in the background, including rescuing 'casualties' from a mud slide, falls from height, medical emergencies in difficult locations and rescues from height.
Station Manager Phil Mellor who was part of the Rope rescue team, said: "Each scenario was subject to a time limit with marks awarded and lost against incident management, trauma care and technical abilities.
"The scenarios were incredibly complex, with numerous restrictions in place such as access and egress, additional rescues, rescue of HART members and multiple difficult edges and building structures.
"The team performed exceptionally well showcasing GMFRS' technical rescue abilities to a high standard, and everyone involved should be very proud."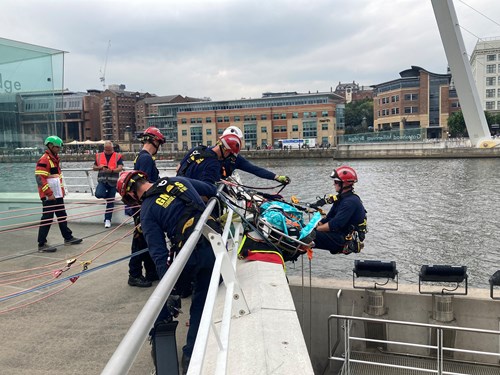 Rope rescue scenario
All team members took part in the event's closing ceremony on Saturday, September 18, with GMFRS' RTC team finishing in fifth place overall.
GMFRS' Director of Service Delivery, Assistant Chief Fire Officer Leon Parkes and Area Manager Stewart Forshaw also attended the event to support colleagues from across the Service.
Leon said: "I would like to add my thanks to the teams that took part in this year's event. The professionalism shown by all was first class and every single person who took part did so with total commitment and are a credit to the Service.
"Having observed several scenarios and listened to the debrief feedback, which was excellent. I am extremely proud of each and every one of our GMFRS competitors.
"I am really keen for GMFRS to build on this year's event and would encourage others to consider taking part in what really was a fantastic challenge."
---
20/09/2021 15:47 PM