Fire News
Fire - Hooten Lane, Leigh
09.15am update

Crews from across Greater Manchester remain at the scene of a large fire in Leigh this morning, having worked throughout the night to extinguish the blaze involving approximately 300 tonnes of hay and wood.

Station Manager Robert McDonagh, now in charge at the incident, said: "Our crews have been here working in freezing temperatures right throughout the night, and I cannot praise them enough for their professionalism and determination.

"Thanks to their outstanding work, alongside colleagues from Cheshire Fire and Rescue Service, I'm pleased to say that we've made good progress in extinguishing this fire. We've reduced the number of appliances in attendance to eight, and our crews are using several handheld jets and a high-volume pump to tackle the flames in two sectors. We're also liaising with Wigan Council and their gritting fleet to ensure surrounding roads remain accessible in these icy conditions.

"We expect to scale back further once further progress is made, but for the time being this remains a sizeable incident and members of the public should continue to avoid the area while emergency services are in attendance.

"We're very grateful to local residents for their understanding and support throughout this incident, which has been made all the more challenging by the snow and very cold conditions. We are conscious that a number of residents' driveways have been blocked by our hoses and other equipment, and we want to reassure them that we are working hard to resolve this and remove our equipment as soon as possible.

"The smoke plume at the scene has decreased in size, but we must still ask people to keep all windows and doors closed wherever possible."
Area Manager Ben Levy said: "I'd like to personally thank fire crews who have ended their Christmas working tirelessly in arduous conditions including rain, mud and snow, to ensure the impact of this incident is as minimal as possible for local residents."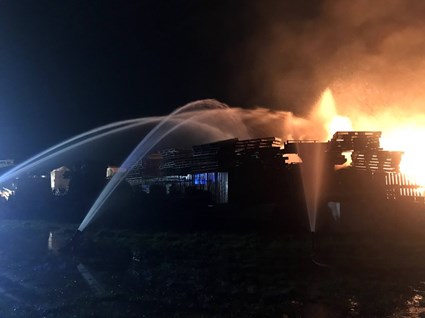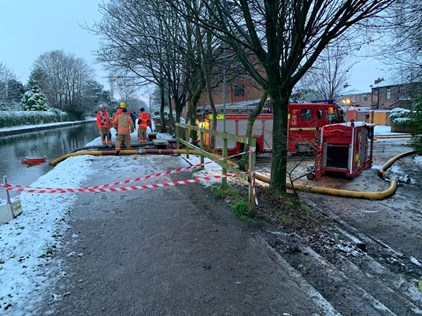 Credit: GMFRS
---
11.45pm update
Ten fire engines and specialist appliances are currently at the scene of a large fire in a field near Hooten Lane, Leigh.
Group Manager Val Hussein, in charge at the scene, said: "This is a significant incident and our crews are working exceptionally hard in difficult conditions to bring this fire under control.
"We estimate that around 300 tonnes of compacted hay and baled wood shavings are alight in an area covering approximately 100 square metres. Firefighters are fighting the blaze in sectors using handheld firefighting jets and a high-volume pump. We have colleagues from Cheshire Fire and Rescue Service assisting our crews at the scene and we expect to remain here for some hours.
"I want to thank colleagues from Greater Manchester Police and North West Ambulance Service for their support at the scene.
"The materials burning have created a large plume of smoke, and for that reason I must ask that local residents continue to keep all windows and doors closed and avoid the area while crews carry out their work."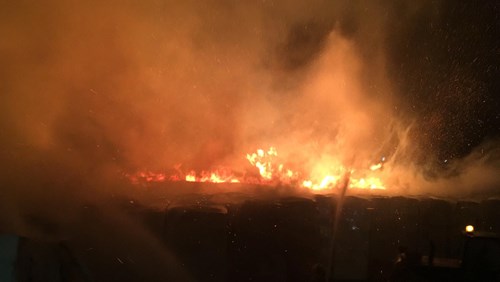 Credit: GMFRS
---
10.00pm update

At around 8.20pm on Sunday 27 December, six fire engines from Atherton, Farnworth, Eccles, Hindley and Stockport fire stations, as well as the Technical Response Unit from Leigh and a hose-laying lorry from Bolton North, were called to reports of a fire involving a large amount of compacted hay and wood shavings in a field near Hooten Lane, Leigh.

The fire currently covers an area of around 100m by 100m and crews are tackling the blaze in sectors using handheld firefighting jets.

The fire is generating a large smoke plume, and local residents are advised to avoid the area and keep all windows and doors closed at this time.
---
27/12/2020 22:06 PM