GMFRS Fire
Emergency services deal with city-centre disaster during realistic training exercise
A MULTI-agency training exercise took place today (Friday, February 15, 2019) at Greater Manchester Fire and Rescue Service's Training and Safety Centre in Hinds Lane, Bury.
Firefighters, fire officers and volunteers from Greater Manchester Fire and Rescue Service (GMFRS) were joined by colleagues from Greater Manchester Police, North West Ambulance Service, Transport for Greater Manchester, Metrolink, and Bury Council.
The scenario saw a Heavy Goods Vehicle (HGV) collide with a tram, resulting in a collision involving several vehicles - which left a number of people injured and some deceased.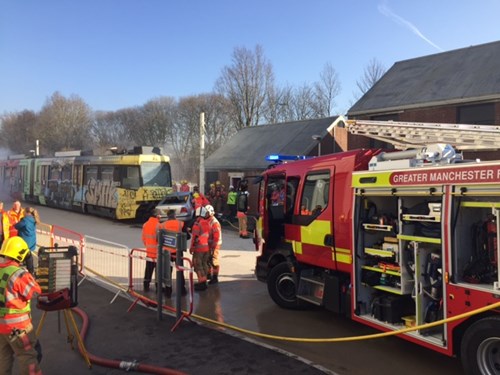 The HGV was carrying unknown chemicals and the tram caught fire as a result of the collision leaving people trapped in the carriages.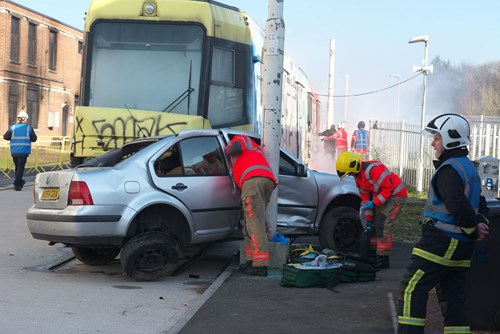 The aim of the exercise was to test the training principles in place at the organisations involved with their staff members in preparation for dealing with major incidents.
Group Manager Tony Bryan, who is the resilience manager at GMFRS, said: "The exercise gave us the opportunity to deal with a serious tram incident. This was a complex scenario which gave us the chance to put our skills and knowledge to the test, working with our partners who we deal with at real incidents.
"The incident scenario was in the city centre during peak time with concerts, football matches and much more going on, which provided us with lots of real-life challenges, such as roads being gridlocked due to a power outage in the area because of the collision - resulting in traffic lights not working.
"With the help and support of our partner agencies the exercise was a success for all. It's crucial to keep refreshing our learning and training to develop and enhance the current skills of colleagues.
"GMFRS volunteers did a fantastic job, as always, acting as casualties and making the scenario seem as real as possible for crews involved, and thanks also to the Salvation Army who provided our staff with refreshments during the exercise."
As the mock incident developed volunteers acted as casualties - who were either injured or concerned for their family's welfare - with firefighters, officers and paramedics working in collaboration to help those trapped and injured.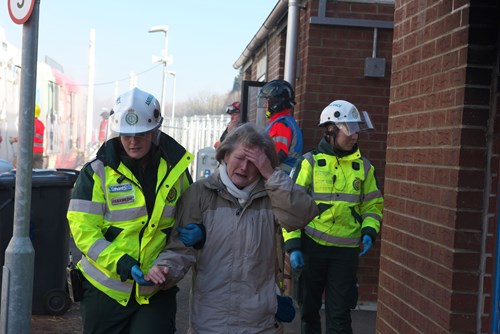 Firefighters wearing breathing apparatus used hose reels to tackle the fire, and technical rescue equipment and cutting in gear to rescue a number of casualties who were trapped in the vehicles.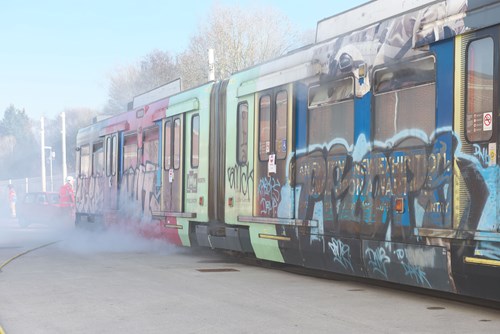 Transport for Greater Manchester's Head of Metrolink, Danny Vaughan, said: "Light rail is an extremely safe mode of transport, however accidents can and do occur, as demonstrated by the tragic events at Croydon, which underline the importance of having well-rehearsed emergency processes in place to protect our passengers and the public.
"By working in partnership with emergency services and other agencies and utilising the fantastic GMFRS training facilities available at Bury, we are able to put our contingency plans to the test, ensuring they are as robust and effective as possible."
---
Article Published: 15/02/2019 17:09 PM