Fire
Commercial building fire – Oldham
EIGHT fire engines are currently at the scene of a fire at a commercial property on Pitt Street, Oldham, after Greater Manchester Fire & Rescue Service (GMFRS) were called to the scene at 4:41 this morning.
The property was well alight when crews from Oldham, Chadderton, Rochdale, Heywood, Mossley, Blackley, Stalybridge and Manchester Central arrived.
Firefighters quickly set to work and are tackling the blaze, measuring 50m by 50m, using four jets, and are battling the flames from ground level and from above using an aerial appliance.
There are road closures in place and local people are asked to avoid the area to allow easy access for emergency service vehicles.
There is also smoke in the air so those living close to the area are requested to keep the windows and doors of their properties closed for the time being.
7:30am update
Roughly 50 firefighters are continuing to tackle the fire at a commercial property and garages on Pitt Street, Oldham.
Crews are using 8 jets to fight the fire from the ground and above, using a hydraulic platform. Around 10 local properties have been evacuated as a precaution and are being supported by Oldham Council to move to a safe place.
Paul Fearnhead, Group Manager for Greater Manchester Fire and Rescue Service, said: "I want to praise our hardworking firefighters, especially after a very busy Bonfire Night. We have separated the incident into different sectors of firefighting and crews are making steady progress in battling the blaze.
"This fire is ongoing. I want to reassure local residents that, although there is smoke in the area and we are still asking nearby residents to keep windows and doors closed, we are continuing to do everything we can to bring this fire fully under control."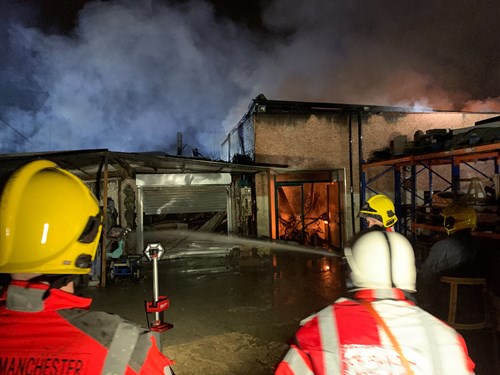 Update 9:00am
The fire on Pitt Street, Oldham is now under control thanks to tireless work from our firefighters in the early hours of the morning.
A portion of the building has collapsed due to the intensity of the fire.
At the height of the blaze, eight fire engines were at the scene as crew used hydraulic platforms to put water onto the fire from above.  
10 homes were evacuated due to safety concerns and those residents are yet to return home.
Firefighters will remain at the scene throughout the day as they continue to put water onto the fire to extinguish any remaining pockets of fire.
We expect road closures to be in place for the next few hours. Some residents may experience a loss of water pressure while the incident is ongoing.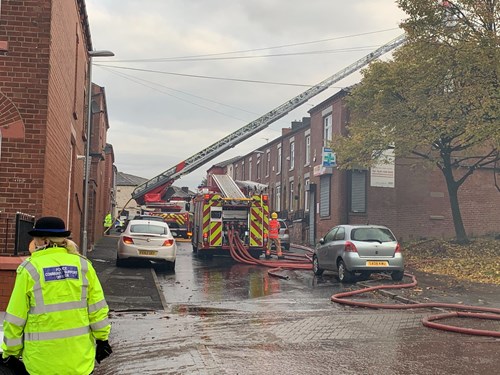 Update 12pm
The fire on Pitt Street, Oldham has now been largely scaled back and only one pump remains.
Thank you to all firefighters who tackled the blaze throughout the morning and have managed to get the incident under control.
---
06/11/2019 06:32 AM