Manchester
Be Water Aware – it could save your life
NATIONAL Drowning Prevention Week has kick-started, with a host of activities scheduled by Greater Manchester Fire and Rescue Service (GMFRS) staff members to help keep people safe in and around our waterways.
The dedicated week of action runs from April 29 to May 5 this year - led by the National Fire Chiefs' Council and supported by fire and rescue services all over the UK.
In the coming weeks there will be three reach-poles installed along the Rochdale Canal, each at or close by to where someone has lost their life through drowning, as part of a partnership including a number or organisations, including GMFRS, Manchester City Council and the Canal and River Trust.
The installation of the poles will follow on from an ongoing initiative, where throwline boards are being installed at a number of reservoirs across Greater Manchester and Lancashire – to help those who find themselves in the water and also provide information which is given to control operators when 999 is dialled – allowing them to send firefighters to the exact location. As part of the initiative, throwlines will be installed next week in Gorton and Audenshaw reservoirs.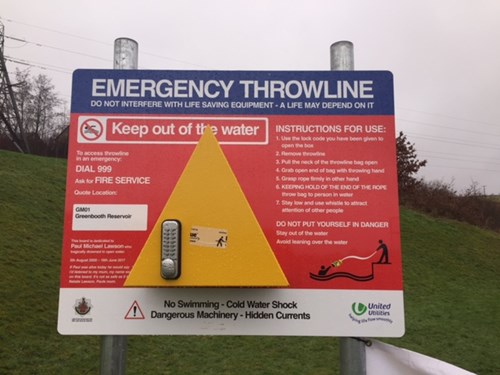 To mark Drowning Prevention Week GMFRS' firefighters and volunteers carried out water training and spoke with people about staying safe around water at Salford Quays yesterday (Sunday, April 28).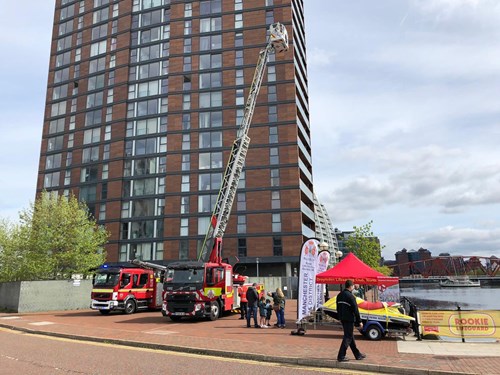 GMFRS staff members and volunteers will also be getting involved in a student-focused event hosted by CityCo in St Ann's Square in Manchester City Centre on Thursday, May 2, between 10am and 4pm - speaking with attendees to help prevent them getting into trouble around water.
On Saturday, May 4, Ashton-under-Lyne firefighters are hosting an open day at the community fire station in Slate Lane, Audenshaw, between 10am and 4pm – when people are invited to go along and meet staff members and have a chat about water safety.
Area Manager Damian O'Rourke from Greater Manchester Fire and Rescue Service said: "We are really pleased to be supporting Drowning Prevention Week again this year and want to take this is an opportunity to highlight the dangers of water and of the fantastic work our staff members and volunteers do keeping people safe.
"Our firefighters are trained in water rescue but sometimes it just isn't possible to get to people in time to save them. We have sadly seen 10 people drown Greater Manchester in the last three years alone, with many others suffering injuries.
"As the warmer weather approaches we want to remind people about the dangers that come with swimming in reservoirs and other open water and also about taking care when out and about around canals – such as those in Manchester City Centre, which have sadly claimed too many lives. Please don't walk alone along canals and always try and plan your journey home at the start of your night out."
Councillor Nigel Murphy, Deputy Leader of Manchester City Council, said: "As well as installing new equipment to boost safety along our city centre canals, Manchester's Water Safety Partnership is working hard to ensure that people understand the waterways and how to keep themselves safe. I'd encourage everyone to take advantage of the events with our firefighters, which will help you to steer clear of danger by becoming water aware."
For more safety advice please take a look on GMFRS' website: https://www.manchesterfire.gov.uk/staying-safe/what-we-do/seasonal-safety/water-safety-advice/
Follow social media activity during the week using #BeWaterAware
---
Article Published: 29/04/2019 12:25 PM